I'll be the first one to admit, I've got a rather unusual name. Most people I come in contact with do not know any other Ladd's, and for that matter, neither do I. It's a rare occasion to introduce myself to somebody for the first time without getting a question or two about its pronunciation, origin, or what it's short for. Often times, I've decided, it's just not worth the trouble of telling people my name, because the effort each introduction involves is exhausting.
Here's a typical first encounter:
Me: "Hi, I'm Ladd, nice to meet you."
Them: "Hi Lance, it's a pleasure."

Me: "No, ah, actually it's Ladd, not Lance."
Them: "OHHH, Larry, I'm sorry."
Me: "No, it's LAAAAAD-dah"
Them: "OOOH LAAAD... like L-A-D?"
Them: "Wow I've never heard that, is that short for something?"
Me: "No, it's just Ladd."
Them: "Sounds Irish. Are you a "good Ladd"? (chuckle, chuckle)
Me: "HA! That's funny. I've never heard
that one
before."

Them: "So, how'd you get that name?"
Me: "Same way you got yours."
To avoid these excruciating conversations, I have several aliases on standby for things like restaurant reservations, dealing with the dry cleaner, pizza delivery, taxi cabs, bartenders - or anyone who has that look, like they
need
to have the conversation seen above. They can call me Kin-Tahn-Tee for all I care, so long as I don't have to go through that again.
As a kid, it's difficult having a name that's unusual. The gift shops never had my name on a keychain or a coffee mug, or a bracelet. On roll call, the substitute teachers would always murder every name that wasn't John or Mary, and mine
always
ended up hacked beyond recognition. I mean, really? It's a mono-syllabic name. How can I believe that you are going to teach this class effectively if you can't successfully pronounce my name in three attempts? Other kids liked to joke that if I was a girl, I would have been named Lassie (or they'd just flat out call me Lassie, because it was utterly hilarious). Even my father would occasionally torture me by singing a nauseating melody with a refrain that went something like "Ladd's bad and Dad's glad."
Suffice to say, it took me a fairly long time to get beyond the idiosyncratic nature of Ladd, and begin appreciating my name for what it is. Even as I write this blog, I have to look beyond the fact that each instance where I use my name, the computer dutifully reminds me that the word
Ladd
is not in it's database of recognized vocabulary, and I should change the word to 'lid' as quickly as possible. Apparently even Bill Gates thinks my name is funny.
Easily, the best thing that the name Ladd has going for it is its uniquity. Sure, there are others out there, but Ladd is almost exclusively a surname, not a first name. Complicating matters further is the fact that my last name, Keegan, is most commonly used as a first name. At least my parents clearly must have had a good sense of humor.
Of course, it's not all bad. I've taken a few moments to compile some notably
good
things about Ladd, and here are just a few of them:
Ladd Syndrome

, I am

an extremely rare genetic disorder characterized by abnormalities affecting the lacrimal and salivary glands and ducts, ears, teeth and fingers and toes. (

http://children.webmd.com/ladd-syndrome

), which also relates to
Ladd Air

, I am a fantastic, one-aircraft charter airline based in Dayton, Ohio - operating since 2004 and never crashed! (

http://laddair.com/

)
Ladd, Illinois

- I am a village in Bureau County, Illinois, population 1,313 (as of 2000 census - since then I'm sure it's exploded with popularity). According to Wikipedia, "Ladd is most notable for the large hill in the middle of town." It is also the undisputed center of the local music scene, with

The Cancun

in Ladd hosting shows at least once per month.

(

http://www.city-data.com/city/Ladd-Illinois.html

)
Ladd Observatory

, I am a historic observatory at Brown University opened in 1891 by Professor Winslow Upton. I'm open to the public on Tuesday nights from 7pm-9pm, weather permitting. (

http://www.brown.edu/Departments/Physics/Ladd/index.html

). **Please note that Ladd will be closed tonight due to the weather.**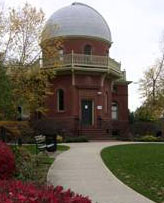 So this begs the question, what would my life be like without Ladd? Surely enough, things would be quite different. I suspect that had I been named Mike or Dave or Sean that this blog entry would read quite differently than it does now.
Not long ago, I finally asked my parents, "what on Earth were you thinking when you named me Ladd?"
They said, "we're not sure, but aren't you happy we did?"
There was only one thing I could say. "You're God damn right I am."